About us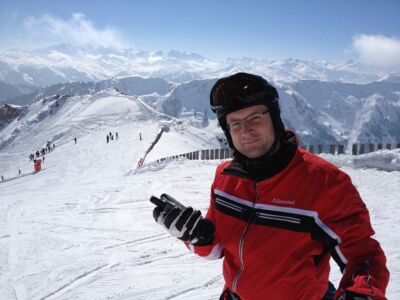 Christoph Schrahe
Christoph Schrahe first studied geography, cartography, urban planning & cultural engineering and geology in Bonn since 1988. From 1991 onwards, he studied business administration at the Cooperative University of Baden-Württemberg and graduated with a BA in business administration. While still a student, he visited ski areas around the globe and published the book "Ski Weltweit". Afterwards he worked in a Swedish ski resort for some time. This was followed by a position at the bicycle tour operator Aktiv-Reisen velotours in Konstanz. In 1996 he moved to Bosch in Hildesheim as a product manager for digital maps for vehicle navigation devices. In 1999 he took over a position as Senior Consultant at ift Freizeit- und Tourismusberatung GmbH in Cologne. There he managed numerous projects related to regional and product development in tourism. Among others, he prepared master plans for the Ministries of Economic Affairs of North Rhine-Westphalia, Thuringia and Lower Saxony for the development of winter sports offers, which dealt with questions of sustainability, the development of measures, economic effects and above all snowmaking against the background of climatic changes.
Together with the Swiss Federal Snow and Avalanche Research Institute (SLF) in Davos, Christoph Schrahe developed the SnowPlan simulation program for the planning of technical snowmaking systems. The master plan for the Wintersportarena Sauerland, which has been initiating projects for upgrading the wintersport infrastructure in the Sauerland since 2000 with an investment volume of more than 130 million euros, is largely based on his initiative.
Christoph Schrahe lectured at the Cooperative University of Baden-Württemberg in Ravensburg on "Winter Sports Facilities Management" and also held lectures at the International School of Management in Dortmund. His lecturing activities on topics of the winter sports industry took him to the booming winter sports region of Heilongjiang in northeast China and to Greece as part of a UN project. Christoph Schrahe also gave lectures at the World Winter Forum in Vienna and regularly at the German Seminar for Tourism.
Since 2008 he and his company Montenius Consult have been working on the development of winter sports areas. His focus is on Germany, but he has also worked on projects in Austria, Ukraine, Turkey and Pakistan.
Christoph Schrahe is also one of the best-known German authors in the field of winter sports. He has already travelled and described around 500 ski resorts in 41 countries on six continents. Besides the travel guides "Ski Weltweit" (published 1994) and "Vista Point Ski Guide North America" (2005, 2007, 2010, 2017) he has published numerous articles in well-known German and international (USA, England, Austria, Switzerland, Hungary) newspapers and magazines such as Ski Area Management, FAZ, Frankfurter Allgemeine Sonntagszeitung, Süddeutsche Zeitung, Hamburger Abendblatt, Stern, ADAC-Reisemagazin, mobil and Lufthansa Magazin. He wrote for the DSV Ski-Atlas, the ADAC Ski Guide and appeared in various TV and radio programmes (ARD, WDR, ZDF, SWR etc.) reporting on winter sports destinations all over the world.
Christoph Schrahe is a certified ski instructor.
On 27 January 2013, he published the article "Die Vermessung der Pisten" in the Frankfurter Allgemeine Sonntagszeitung, which triggered an international media echo and a rethinking process in the industry - at least with regard to determining the length and communication of piste kilometres.