Valuation concept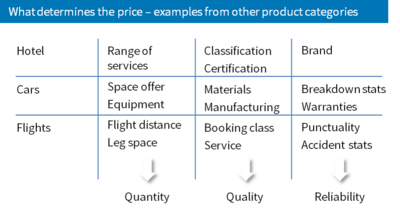 What really matters
What does the guest pay for when buying a ski pass? He pays for the key services of a ski resort: the lifts, the pistes and the snow covering them. For food and beverage, rental, ski school or childcare, the customer pays extra - they are not included in the price of the ski pass and can therefore not be subject of a ski area valuation, which is comparable to the price of a ski pass.
Which are the objectively measurable factors that determine the value of a ski area? A look at other product categories may help to answer this question. The various aspects that determine the price of hotels, cars or flights, for example, can essentially be summed up in the categories quantity, quality and reliability.
State of research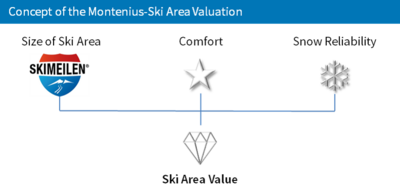 Many empirical studies have examined the valuation of supply aspects in ski resorts. If their results are analysed in terms of factors related to ski resorts in the narrower sense (factors that have to be paid for with the ski pass), the following factors emerge as significant:
The combination of Skimiles with the comfort and snow reliability of the ski area results in the ski area value, a standard with which the prices of ski passes can finally be compared and a price/performance ratio can be determined.